We went to the Fair for opening day. We braved the masses and the sweltering sun all in the name of tradition, all for the sake of a cream puff. It was Hunger Task Force day at the Fair and so we took full advantage of the reduced gate charge by donating a bag full of non-perishables (us and about a million others!). Our family of 10 got in for a mere $12.
Then it was off to the mid-way where the kids were more than happy to wait in long lines for short stomach lurching rides. Fortunately for us it was Dollar ride day and so we sponsored 10 rides for each 'big kid' and only spent $50 in the process. What's more, Sarah volunteered to over see the mid-way activities and so we were able to take the 3 little kids around to the less thrilling (but perhaps just as stomach lurching) animal barns.
And if you are wondering how on earth you can get away with feeding 10 people at the Fair without taking out a small loan, well I have 4 words for you.....Herb Kohl's Milk House. A long running attraction at the Fair, this little milk stand offers different flavors of milk for 25 CENTS a cup!!! Choose from banana, root beer, cherry vanilla, strawberry or of course chocolate and you will not be disappointed. Each of us picked 2 flavors to sip on and wound up with very full bellies for under $10. In addition to this we found the Root Beer Barrel's to be the cheapest way to quench our thirst. You can buy a 46 oz. re-usable plastic cup there for $5 and refill it unlimited times for $2.50. Luckily none of our kids mind sharing germs, especially when they're thirsty!
Another cheap food fix is the French Fry Hut. They've got fries in all sizes and we settled on a 64 oz. basket that cost $9 and had everyone licking salt and ketchup off their fingers.
And just so you don't think I am the biggest cheapskate on the planet, we didn't bargain hunt the entire time we were there. Maija and Sidhe joined forces (and piggy banks) to purchase a lovely parasol from a curbside vendor and we did wind up with a box of 6 Creme Puffs To Go. Plus, in all honesty the rides are where it is at for our crew. Nuala and Oscar even got to go on their first ride this year. It was hilarious! They piled into this friendly red dragon with Finn and Ruari and by the time all 4 kids were belted in the poor thing looked as if it might just tumble over from the pressure of it all. It didn't of course, but still my heart was pounding a little faster than usual!
A few years ago this was the exact same ride that Micah choose as his first mid-way adventure....
I also got a few over exposures as well before catching my settings....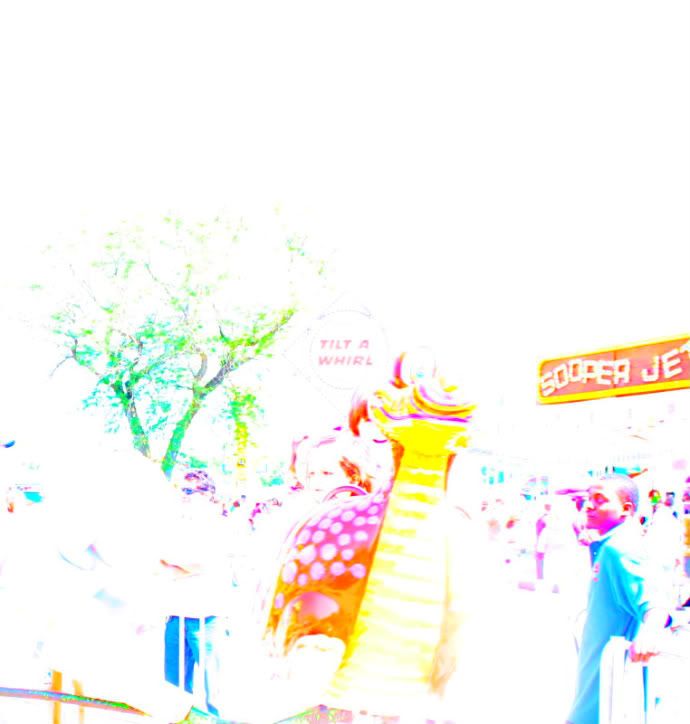 So there you have it, our annual trip to the Fair, and even though not a single one of us made it home without a sunburn (yes, even poor Saoirse who was in the Bjorn the entire time, came home with red raccoon eyes) we all had a great time and will definitely go back for more next year. Ummm, more fun that is, not more sunburn. How on earth did I forget the sunscreen?!?