Ok
, it's been nearly 2 years now since we bought our camera, a Canon Rebel
xsi
. One year since I bought a 50mm lens and started learning how to shoot manually.
It's a process, there's a give and take, a natural flow of sorts. Sometimes I am overly eager to learn as much as I can. I wind up taking hundreds of shots with a camera that's readily available at any given moment, just an arm's reach away. Other times I go for days without picking it up, never finding the light or having the patience, feeling overwhelmed by how much there still is to learn.
Growth is like that. You need to have a little patience with the down time so that you can absorb what you have learned before moving on to the next lesson. My next lesson has begun, and it involves a new lens.
I've been mulling over a new lens for quite some time and finally decided to go with a
Tamron
28-75mm. It was not an easy decision to make, but after asking pretty much anyone who would listen, reading way too many reviews and nearly driving my husband insane with the never ending back and forth of my indecision, I finally realized that it wasn't quite the major show stopping deal that I'd blown it up to be (as usual) and so I placed my order. It's only been a day so I can't really broadcast too much of my opinion yet, but the official first impression is that we're going to get along just fine.
Donuts and chores made for an uneventful Saturday morning. Who wouldn't want to clean their room with a smile on if they knew that jimmied frosting was waiting for them in the kitchen?
Some weekends we're running around falling all over each other as we try to keep up with the schedule and not fall behind. Always juggling, always balancing, always looking over one shoulder to make sure that time won't pass us by, always running to stay one step ahead.
Other weekends we trade in the running shoes for slippers and decide to call a temporary truce with time. Slippers and Mary
Janes
and no clock in sight.
Saoirse
had classic bedhead this morning. I don't think that I've ever seen her hair so crabby about getting out of bed.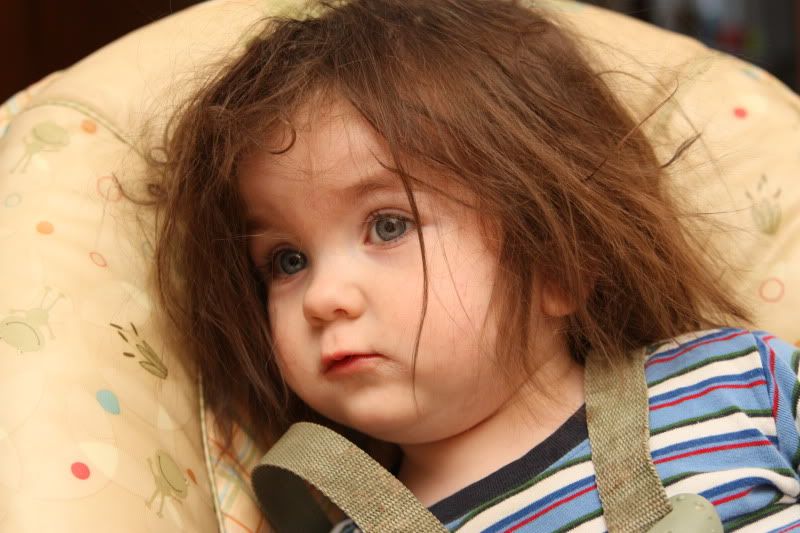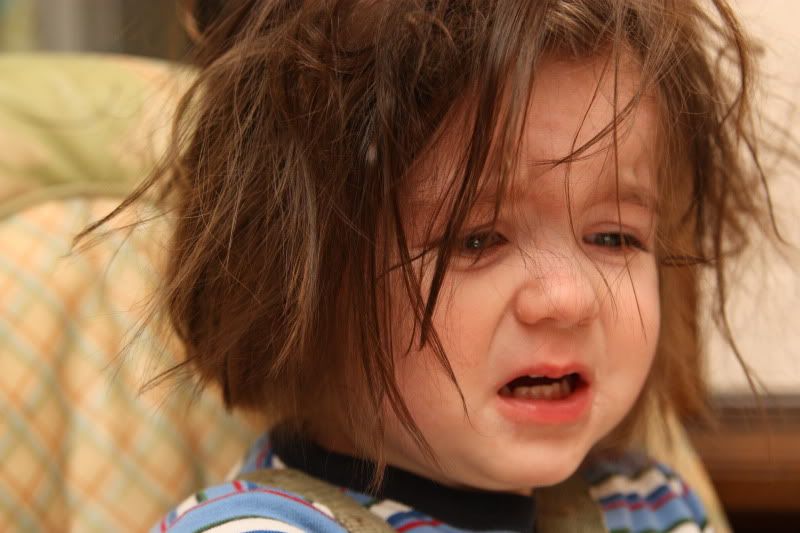 What's great about your average one year old temper tantrum is that a bowl of Cheerios will clear most of that attitude right up. It might not do anything for the hair, but when you're having a slipper weekend it doesn't really matter much, does it?
I've sort of grown rather attached to the hearts hanging in the living room. When was Valentine's Day again? I really am going to take them down, I tell myself this every day, yet here we are 2 weeks later....
And just because I have a new lens and just because my husband is a fantastic cook and just because it's pretty, I leave you with homemade fried rice. Tastes even better than it looks. Let's have a great start to the week shall we? I hope your hair isn't as crabby as
Saoirse's
when it's time to get out of bed tomorrow morning!
Thank you to everyone who helped me figure out which lens to go with, I appreciate all of your insight and support and general kindheartedness. Makes for many warm fuzzies while I'm busy 'bonding' with our newest addition. I know it may not seem like much, but having opportunities to grow with my hobbies and to nurture that part of myself means the world to me.