I've been busy toying around with some new hats for the kids. It's a work in progress, and still a rather delicate game of numbers as I try to figure out sizing issues, but the construction is fairly simple and using super chunky yarn is a great way to learn. I've sort of just taken all that I've learned about hats and gone off-roading with a few improvised patterns of my own.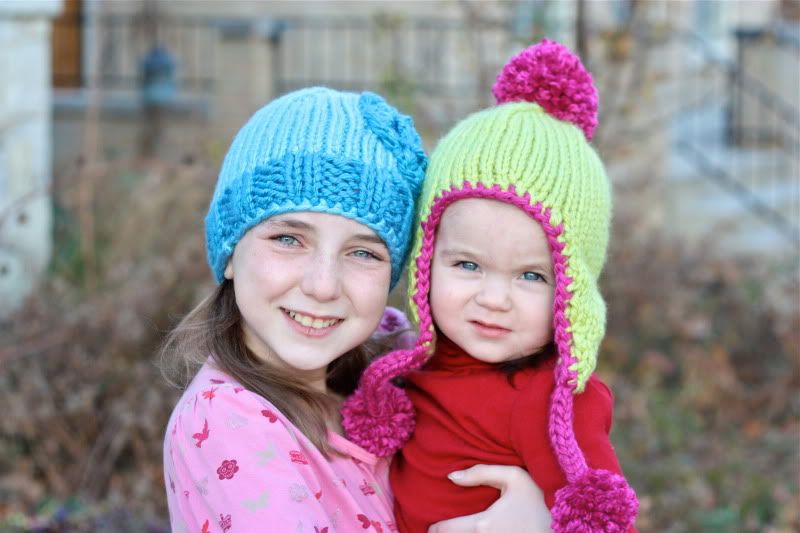 Ruari
wanted a blue hat and
hers
was a breeze. I feel like I got the decreases just right and so the top isn't too pointy. I did a quick crochet around the border, which tightened it up a little too much, but we're hoping it will stretch out over the next few days.
This
earflap
hat was actually cast on for
Maija
but I got the sizing WAY off and so it ended up being for
Saoirse
instead. The flaps are a little bit too big for her, but the way I see it they'll just help keep her cheeks extra cozy and warm.....
This hat also got some crochet around the edge, along with a couple of i-cords and a few pom poms. I've never been that great at assembling these add-
ons
and so we'll see how long they hold up.
Saoirse's
pretty rough and tumble.
I really adore making things with my own two hands, it's peaceful and satisfying and really a lot of fun. I suppose it helps that I have so many people to knit for. Too bad I don't have a lot of patience otherwise I'd wrap these up as Christmas gifts. Oh well, I'll just have to knit something else for under the tree.