Ok, here we go with the blog maintenance as previously promised. The next 7 posts have been imported from our old 'home' as we prepare to begin demolition and make our stay here permanent. 

***Imported from Just9isFine. Originally posted 6/23/2008***
Micah was 3 years old when we got pregnant with the twins, had already blown out 4 candles by the time we found out about the twins and was half way to the big 5 when our family was made complete by the birth of the twins.

As you can see, he was absolutely thrilled...
When the babies were born however, he welcomed them into his heart with a degree of poise and grace that was a bit surprising even to me.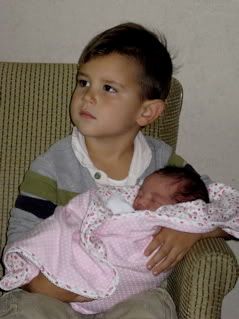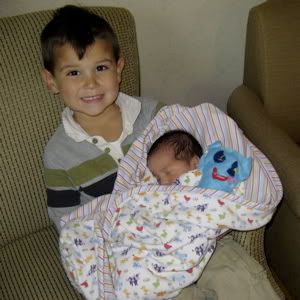 Over the course of the past year, he has forfeited his rank as the 'baby' of the family to not just one, not even two but THREE younger siblings (he has a younger brother at his dad's house as well as the twins) and we sometimes forget what a tremendous adjustment this must have been for him. In part because he has been so agreeable to the natural change and in part because well, perhaps we were so sleep deprived for the past 6 months that we simply didn't have enough time or energy to really notice. Either way, I have been doing my best as of late to sneak some precious time for just the two of us. Sometimes true 'quality' time can be hiding right in front of your eyes, or in our case "glasses". And you need not look much further than the here and now.
I'm sure there is a part of him that still longs for the days when mommy time meant long afternoons at the children's museum, bike rides in the park or 100 trips down the tube slide together.
But for now, 10 minutes of pure uninterrupted silliness will simply have to do.